Rio de Janeiro, Brazil is the name of both a state and a city in south-eastern Brazil. Commonly known as just Rio, the city is famous for samba, its hotel-lined tourist beaches Copacabana, Ipanema, and Leblon, its black and cream decorative mosaic pavements.
The city is commonly divided into the historic centre (Centro); the tourist-friendly South Zone, with world-famous beaches; the industrial North Zone; and the West Zone, with the newer Barra da Tijuca district.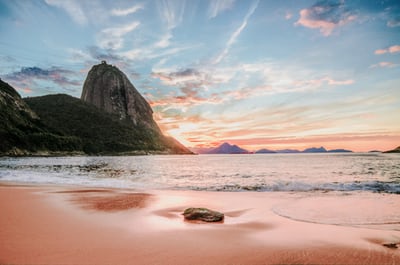 Rio de Janeiro is home to 10 million people, and all of them are dedicated to having the best time of their lives every day. The amazingly beautiful Avenida Atlântica is flanked on one side by white beach and azure sea and on the other by the pleasure-palace hotels that testify to the city's eternal lure. This is a city that has it all, great weather, great people, and great attractions.

Nearly all of Rio's attractions are found in the affluent Zona Sul, the neighborhoods on or near the beach. It is here that hotels, restaurants, shops, and nightlife are concentrated. During the day, Rio life focuses on the beaches, the most active of which remains Copacabana. The famed Ipanema beach is only a short beautiful walk down the Avenue. Beach life there is more restrained, but no less seductive. The western extension, Leblon, is an affluent, intimate community flush with good, small restaurants and bars. The more distant southern beaches, beginning with São Conrado and extending past the Barra to Grumari, become richer in natural beauty and increasingly isolated.

Rio is an amazingly modern city given its 400-year history. Most of the best urban attractions are located close to each other in the city center. There are amazing churches and museums that help present the best of this vibrant culture. Rio's restaurants serve some of the best steaks and meats to be had in the entire world, and the unique Brazilian style of cooking is not to be missed. Moreover, Rio features the greatest party in the world "Carnival" every year. Visitors to Carnival won't be disappointed when they see the amazing floats and beautiful people. Dancing, drinking, and having a good time are a must during Carnival, and also every other day of the year.
Visitors to Rio come with high expectations, and those expectations are definitely surpassed by what they find in this amazing city. The beaches are world-famous for a reason. The downtown area is simply amazing. The Brazilian culture is beautiful because the people of Brazil are amazingly warm and generous towards their guests. The motto here is certainly that everybody must have a great time. The people of Rio and its thousands of visitors are certainly dedicated to making that proposition come true.
Search for your Hotel
Choose your lodging below
Select your Accommodations below.
Hotel Reservations by hotelroomdirectory.com © Copyright 2006
Best Value Hotel Rooms