Telluride is a town located in San Miguel County in southwestern Colorado on the San Miguel River on the west side of the San Juan Mountains.

Telluride has become a destination (and home) for artists, skiers, celebrities, second homeowners, hippies, and just about any other human type. Telluride has been coined the City of Festivals, but the mocking title at least guarantees that any summer weekend you're likely to stumble on some happening.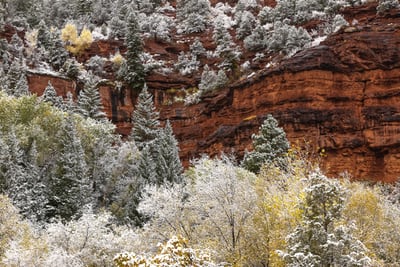 What makes a vacation in Telluride so outstanding? The experience begins with the journey itself. Whether driving or flying, travel to Telluride includes breathtaking views and spectacular scenery. Direct flights to an airport located just 10 minutes from town, smooth and scenic roads, and in-town transportation are just a few of the conveniences.

A remote boomtown established at an elevation of 8745 feet in the heyday of Colorado's gold and silver mining era, the Town of Telluride was incorporated in 1878. Unlike other ski resorts, Telluride has never lost its Old West characteristics. Just five blocks wide and eight blocks long, it is filled with colorful Victorian homes, clapboard storefronts, boutiques, art galleries, bookstores, gourmet restaurants, and historic buildings. Great care has been given to the renovation of old saloons, general stores, and icehouses. Some have been converted into elegant restaurants, western boutiques, and fine art galleries. All have retained their authenticity.

Present day Telluride is home to the Telluride Ski Resort, and there is a new sophistication to the town. By day, its slope-side location makes it the ideal ski-in/ski-out mountain town with everything within walking distance. By evening, charming restaurants, galleries, and night -spots are gathering places for guests and locals alike.

Telluride is known for its summer and winter outdoor recreational opportunities, its venues for visual and performing arts, its internationally acclaimed music and film festivals, and other sport and cultural events.

Telluride is nestled in the spectacular San Juan range of the Rocky Mountains approximately 100 miles from Four Corners (the intersection of Colorado, New Mexico, Arizona, and Utah). It is a dynamic community and a place of incomparable natural beauty.

In addition to excellent skiing and snowboarding, there are many other great activities for skiers and for non-skiers. Some favorites are snowmobiling and snowshoeing, dog sled tours and sleigh rides, ice climbing, ice skating, and visits to Thrill Hill, an outdoor activity center that offers tubing, snowbiking, and snowskating.
Hike or mountain bike in the spectacular high country in and around Telluride, or try mountain and rock climbing, backpacking, and camping. A car is not needed in Telluride as everything is within walking distance. Additionally, the Galloping Goose is available for a free ride within Telluride and "Dial a Ride" offers free transportation within Mountain Village.

A free gondola runs continuously from 7 a.m. to midnight (except during the off season) between Telluride and Mountain Village. The ride takes about 14 minutes with spectacular views and an optional stop at San Sophia station where passengers can visit the Nature Center in summer. The gondola accommodates pets, bicycles, skis, and passengers with disabilities.

Telluride hosts hundreds of events year round. Festivals include the MountainFilm Festival, the Bluegrass Festival, Wild West, Wine, Jazz, Blues & Brews Festivals, Chamber Festival, and the world renowned Telluride Film Festival. There are also the Mushroom Festival and the Nothing Festival, designed to prove that nothing compares to the festivals in Telluride. There are also sports events, the colorful Balloon Festival, seasonal celebrations, and Repertory Theatre.

Take a mountain hike, a dog sled or sleigh ride, a Jeep tour, or a ride on the Durango-Silverton narrow gauge railroad. Enjoy excellent fishing, paragliding and balloon rides. You can even view the area from the back of a horse. In Telluride there's something unique for visitors of every age. For children there are seasonal camps and children's recreational programs. There are special programs from the Nature Environmental Center, the Telluride Youth Center, and there are regularly scheduled family-friendly events.

Art, antiques, housewares, clothing, sporting goods, gifts, and crafts are available at Telluride's varied shops. Mealtimes are always enjoyable with a full array of excellent dining opportunities from elegant to casual. A vacation at Telluride is a dream come true!
Search for your Hotel
Choose your lodging below
Select your Accommodations below.
Hotel Reservations by hotelroomdirectory.com © Copyright 2006
Best Value Hotel Rooms