Vail is a town located in Eagle County, Colorado, USA.

Vail is known as one of the world's premier winter destinations. Vail Ski Area has consistently been ranked one of the top in North America and among the very best in the world. The alpine terrain that makes Vail famous in the winter also lends itself to incredible hiking and mountain biking in the summer.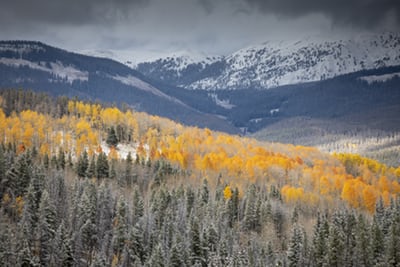 Internationally known for its incomparable world-class skiing and riding, the Vail Valley additionally offers an exciting nightlife, unique shops, gourmet dining and nonstop outdoor adventure, summer or winter.

Vail Mountain, 100 miles west of Denver, is larger than nearly every other North American ski area, and is linked by a well-placed network of lifts and trails. There are 1,220 acres of varied runs on the front side, and the existence of the Back Bowls make Vail a skier's heaven. Those same slopes provide the perfect trails for mountain bike devotees in summer. The village hosts a wide variety of festivals year round.

Consistently ranked the country's most popular ski resort by skiers and ski magazines almost since its inception, Vail has the look of a Tyrolean village and is visited regularly by almost as many Europeans as Americans. This gives its restaurants, hotels, and shops a continental air.

Two people with a vision planned what has become Vail. They were Pete Seibert, 10th Mountain Division veteran and Earl Eaton, a uranium prospector who had grown up in area's wild ranges. In 1957 they climbed to the summit of the mountain now known as Vail and discovered a skier's dream: the Back Bowls; 4,000 acres of open glades. (The Bowls had been formed unintentionally, centuries earlier, when the Ute Indians set "spite fires" to the timberland in retaliation for being driven out by ranchers and miners). Through the efforts of Seibert and Eaton, the fabulous Vail resort was created.

Vail is an excellent example of integrated mountain and village design. The development is divided into the residential East Vail, upscale Vail Village, and the more modest Lionshead.
The satellite ski area of Beaver Creek, developed in the 1980's, has become a substantial resort in its own right. Beaver Creek's strength is that it is one of the best ski areas in America for lower intermediates. The linking of Beaver Creek's trail system with that of neighboring Arrowhead Resort and with Bachelor Gulch, a new area between the two, has added 30% more novice and intermediate terrain to the area and created a European-style "village-to-village" ski experience.

Spring and summer at Vail bring a wealth of new opportunities. The mountain streams and lakes provide superb fishing, canoeing, rafting, and the ski trails open for mountain biking. Horseback riding in the rugged backcountry is another seasonal favorite, as are hiking, golf, balloon rides and tennis. These activities unfold against the spectacular backdrop of the Rocky Mountains, which are so striking in their beauty and grandeur that the first glimpse of them at each visit to Vail literally takes one's breath away.

The Rockies, Vail, the surrounding White River National Forest, all provide peak esthetic and recreational experiences. All are ready and waiting to welcome you and your family year round.
Search for your Hotel
Choose your lodging below
Select your Accommodations below.
Hotel Reservations by hotelroomdirectory.com © Copyright 2006
Best Value Hotel Rooms