San José, costa rica is the capital and largest city of the nation of Costa Rica. It is also the capital of the San José Province. San José is located in the center of the country and is on a mountain plateau at an elevation of about 1,170 meters above sea level.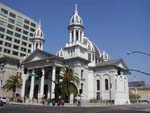 Nestled in a valley 3.770 feet above sea level, surrounded by a crescent of mountain peaks, San José combines scenic beauty with an ideal climate. Temperatures stay at about 70 degrees during the day, year round, and rainfall is limited to short, refreshing showers from May to October During the rainy season, showers fall primarily during the afternoon hours and produce pleasant breezes.

This cosmopolitan capital of Costa Rica contains a smooth blend of modern skyscrapers and classic architecture. It has a more North American feel than many other Latin American capitals, with department stores, shopping malls and fast-food chains. However, it also has excellent museums, some great restaurants, colorful markets and a vibrant nightlife featuring live music, dance and two casinos.

Museums, the National Theater, and an elegant cathedral are waiting to be explored. Below the Plaza of Culture lies the impressive Gold Museum, The Plaza's museum complex also houses a collection of contemporary art exhibits.

Costa Rican cuisine is tasty rather than spicy-hot and is centered around beef, chicken and fish dishes, with rice, corn or beans and fresh fruit as supplements.

From San José, day trips can be taken to two semi - active volcanoes, where roads climb to the brink of the craters. Irazú Volcano, just 35 miles from the capital, towers eight thousand feet above the Central Valley.

A striking, yellow - green lake fills the volcano's large, principal crater, and is surrounded by jagged cliffs of sulfur - streaked lava. Just above the park's visitor area, the road forks and continues to the summit of the volcano, from which, on a clear day, both the Atlantic and the Pacific oceans can be seen.
No less impressive is the 8.871 foot Poás Volcano, less than an hour's drive from San José. The road to the top winds through fertile hillsides planted with terraced rows of dark green coffee bushes which look, from a distance, like a patchwork quilt.

Costa Rica is Central America's special jewel. Los Costarricenses (They call themselves Ticos as an abbreviation of this), are proud of their country's uniqueness. Costa Rica has a reputation for being an oasis of calm among its turbulent neighbors. The country's natural attractions, wildlife and reputation for enlightened conservation draw tourists and scholars from all over the world. Successive governments have preserved the country's reputation in the field of ecotourism, making Costa Rica one of the leading places to experience the tropics naturally and with minimal impact.

San José is home to nearly a third of Costa Rica's population. It is a busy city, but also one in which there are places to relax and enjoy the colorful collage of activities that make up city life.

There are many tree shaded parks throughout the city. There are opportunities for a stroll along garden paths and through museums to enjoy the beauty of art treasures. There are places to visit with children at a leisurely pace. There is no pressure to rush or to do everything in a day. It is a city to savor, to absorb in gradual, satisfying stages.

There are many unforgettable moments awaiting travelers making their way through Costa Rica. Begin them in San José and enjoy the country to the fullest!
Search for your Hotel
Choose your lodging below
Select your Accommodations below.
Hotel Reservations by hotelroomdirectory.com © Copyright 2006
Best Value Hotel Rooms