Helsinki, Finland is the capital of Finland. It is located in the southern part of Finland on the shore of the Gulf of Finland, at 60°10′N 24°56′E. The population of Helsinki is about 560,000. Helsinki forms a conurbation with three other cities, Espoo, Vantaa and Kauniainen, which are together called the capital area.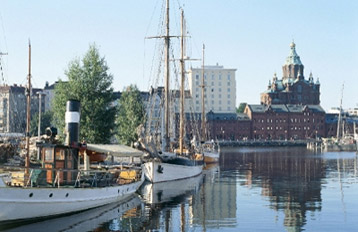 Helsinki's green parks and waterways, fresh sea winds, its busy market square, its exciting cultural events and many open-air cafés make the city a delightful place to visit. Helsinki, the capital of Finland, is the country's center of cultural, financial and economic activity. The heart of the city is compact, filled with treasures from the past and present, and best explored on foot. The city retains a small town feel as there are no high-rise buildings and the market square is still surrounded by 19th century architecture.

A city of the sea, Helsinki was built along a series of peninsulas and islands jutting into the Baltic coast along the Gulf of Finland. Streets and avenues curve around bays, ferries travel among offshore islands, and bridges reach in all directions. Helsinki is linked by ferry to Suomenlinna Island in the Gulf of Finland, which is a perfect spot for picnicking and family outings. Baltic ferries run from Sweden, Estonia and Germany to Helsinki, Turku, Vaasa and Pietarsaari. The ferries are impressive seagoing craft that have been compared to hotels and shopping plazas.

Most visitors arrive in the summer, but Nordic skiing is popular all winter, and there are cross-country trails of varying difficulty. Downhill skiers go to Lapland, or to resorts in the many forested districts of Finland.

Boating can be enjoyed on both sea and lake, but the prime sailing region is just a short distance from the city in the Turku archipelago. Canoeing in the Helsinki area is best on Åland archipelago. Just beyond the city, the largest unspoiled wilderness in Europe attracts thousands of trekkers every year.

Helsinki has over thirty art galleries and museums. Numerous parks and waterside walkways are woven into a perfectly blended range of architectural styles, the result of a neoclassical building surge in the early 1800s and the efforts of modernist Finnish designers in the mid 20th century. Helsinki has been described as the last city in Europe to be built as art.

In the year 2000, Helsinki celebrated its 450th anniversary. This beautiful city has aged gracefully, preserving the beauty of the past while staying very modern and very efficient. Public transportation, including buses, trams, and metro are clean, fast, inexpensive and reliable. The railway station is an excellent example of the merging of beauty and utility in Helsinki. The station contains not only the rail center, but also a metro stop and an underground shopping complex. It is striking in its appearance, with pink granite trimmed in green with a black roof. Designed by Eliel Saarinen in 1905, it links two of Helsinki's architectural styles: national romanticism and functionalism.
Finnish food has elements of both Swedish and Russian cuisine, with many variations and local specialties. The potato is a staple, and is served with tasty fish or meat sauces. Some traditional Finnish meals include game such as snow grouse, reindeer, raw pickled or glowfired salmon. Restaurants and hotels offer a wide variety of delicious entrees containing the best seasonal Finnish ingredients. Also available are offerings prepared in the classic European style.

July is the month most frequently chosen for a visit to Finland. The weather is agreeable with blue skies and just an occasional shower. The summer rain is warm and over quickly. The nights are filled with light in Finland in the summer. Often you can read without a light even in the middle of the night - a perfect situation for those who have remarked that "there are never enough hours in the day."

Shoppers delight year round in the vast array of products of high quality that are available in Helsinki. The Esplanadi and Market Square are filled with cafes and open air stalls selling food, local apparel and crafts. A favorite place for residents and visitors alike is Stockmann Department Store, which is large, modern, and tastefully filled with every possible commodity from clothing and accessories to groceries and other delicacies.

Finland's well-known names in ceramics (Arabia); textiles (Finlayson, Marimekko); and glass (Iittala, Nuutajärvi) are found in specialty shops and bargains abound in manufacturers' factory outlet stores located in and around the city. The stores are museums in themselves! Another celebrated product of Finland is the popular Nokia (pronounced No kia) cell phone and related electronic items.

Major cultural events occur throughout the year. Spring and summer festivals feature fine music and excellent theater. Music, dance, drama, films, and high quality exhibitions are common threads running through the festival programs. The aim of the annual Helsinki Festival is to culminate the summer activities with an internationally acclaimed cultural event. The Festival includes a Night of the Arts festival, with major symphonic works, the finest baroque orchestras, and a Food Piazzaon the Senate Square. There are special events for children throughout the festival.

For an exciting city vacation or a relaxing retreat in beautiful natural surroundings, Helsinki is the destination of choice. Time will fly by in a most enjoyable way when you visit Helsinki. The captivating city, its surrounding sea and archipelago provide the setting for an exciting and inspiring vacation that is sure to please the whole family.
Search for your Hotel
Choose your lodging below
Select your Accommodations below.
Hotel Reservations by hotelroomdirectory.com © Copyright 2006
Best Value Hotel Rooms