Rosemont, Illinois is a village located in Cook County, Illinois. Rosemont is positioned directly between O'Hare International Airport and Chicago. Due to its location, the village is almost entirely occupied by large hotels. Practically every major U.S. hotel chain has a branch in Rosemont.

Everywhere you look in this town, it seems, there's a welcome sign, embellished with a big red rose. It's just lovely.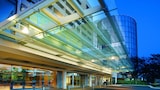 Just beyond the bustling activity of Chicago lies Rosemont, Illinois. Rosemont is conveniently located adjacent to Chicago's O'Hare International Airport, and 17 miles from downtown Chicago. Rosemont is easily accessible to numerous highways, interstates and public transportation and offers its visitors both the convenience to the airport and the city as well as a lifestyle all its own.

There is plenty to see and do in Rosemont and nearby. It has a population of only 4,000, yet the village excels as a top meeting, convention, and trade show center, and hosts an average of 50,000 visitors a day!

Within its two square mile boundary, visitors will find a thriving village equipped for business. There are state of the art office developments, headquarters of leading international companies, and a full spectrum of vital service businesses.

Rosemont is the home of one of the country's largest meeting and convention centers, the Donald E. Stephens Convention Center, Rosemont. Whether it's a sporting event at the 19,000-seat Allstate arena or a Broadway play at the 4,200 seat Rosemont performing arts theater, or enjoying a meal at one of the city's fine restaurants, there is always something of interest.

One unique Rosemont attraction is the Donald E. Stephens Museum of Hummels. Here, visitors can take a close look at more than 1,000 rare M.I. Hummel figurines and ANRI woodcarvings.
A visit to Rosemont will no doubt include a side trip to the great city of Chicago. There, the Navy Pier is a must see destination. Opened in 1916 as a shipping facility and recreation spot, it has evolved into one of Chicago's top family and tourist destinations. Other attractions include the three-story Chicago Children's Museum and live entertainment on the Skyline Stage. Amazing Chicago is a life-sized maze that's part history and mostly fun, with mirrored corridors and twisted tunnels that depict Chicago scenes. When visitors are ready for refueling, they'll find everything from fine dining to food-court fare. No visit to the Pier is complete without a spin on the 150-foot-high Ferris wheel with its great views of the skyline and lake. Speaking of height, visitors can also visit the Sears Tower and Skydeck. Chicago's tallest building boasts the city's longest view--50 miles in any direction on a clear day. The Sears Tower stands 1,454 feet tall, 110 floors high. On a clear day, viewers can see four states. The average sway is six inches from the center.

For the sports-minded visitor, the area is famous for its professional sports teams. Visiting landmark Wrigley Field, provides a look back into sports history. A Chicago landmark since 1914, this classic ballpark is a monument to the national pastime. From the ivy clinging to the outfield wall to the manually operated scoreboard, Wrigley Field is the real deal. There isn't a bad seat in the intimate, 39,000-seat house, save for a few behind the supporting beams. The usually rowdy crowd keeps Wrigley lively with sacred traditions like throwing the opposing team's home run balls back onto the field and traditional outfield chants. Why not make it a family day?

The Frank Lloyd Wright Home and Studio, located in nearby Oak Park, gives an opportunity for visitors to take a walk through the residence of Chicago's famous, groundbreaking architect. In the living room, sofas sit underneath bay windows, which are built into the wall, creating an illusion of light and roominess. Each room seems to flow into the next.

Whether visiting for business or pleasure; spring, summer, fall, or winter, the village of Rosemont offers convenience to O'Hare airport and proximity to downtown Chicago. As the residents of Rosemont say of their village, "All roads lead to Rosemont".
Search for your Hotel
Choose your lodging below
Select your Accommodations below.
Hotel Reservations by hotelroomdirectory.com © Copyright 2006
Best Value Hotel Rooms