Annapolis is the capital of Maryland, a state of the United States of America. The city is a part of the Baltimore-Washington Metropolitan Area, It is situated on the Severn River about 2 miles from its entrance into Chesapeake Bay, 26 miles South by East from Baltimore and about the same distance East by North from Washington D.C.

Annapolis is rainy year round; most months average over three inches of rain. January is the coldest month with an average temperature of 34 degrees Fahrenheit. June, July, August and September are pleasant and warm with average temperatures in the 70s. Annapolis has four distinct seasons: chilly winters, crisp autumns, balmy springs and warm summers.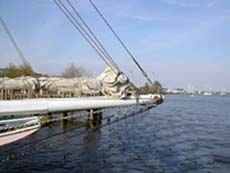 Marylandís capital is a town steeped in history and tradition: from the Senate chamber where Congress ratified the treaty that ended the Revolutionary War to noon formation at the United States Naval Academy.

Annapolis is well known for its excellent restaurants, including colonial dining rooms, taverns, and waterside seafood houses. Many of the most favored dining spots are also located in the city's hotels and restored inns.

Water sports are favored in Annapolis, which is known as the sailing capital of Maryland. Windsurfing, and all forms of boating are widely available. Local sailing schools offer basic instruction, boat rentals, and sailing vacations in boats up to 43 feet in length. Popular land-based activities include biking, walking, and running. The spectacular Baltimore & Annapolis Trail stretches for 13 miles, passing through forests, farmland, urban, and suburban neighborhoods.

Part of the city's unique charm lies in it's being home to two celebrated institutions of higher learning. In addition to the Naval Academy (and just a short walk away), is St. John's College. The third oldest college in the nation counts Francis Scott Key among its alumni and bases its curriculum solely on literary classics.

The three-century-old capital city is a blend of perfectly preserved Colonial, Victorian and Federal architecture that gently rises along the shores of Chesapeake Bay and the Severn River.

The city is centered within two circles: State Circle and Church Circle. All other streets radiate from these two points. The U.S. Naval Academy is in its own enclave, east of State Circle. City Dock is east of both circles, at the end of Main Street off Church Circle.

The entire city center of Annapolis is a national Historic District.
The streets of the city remain narrow, as no historic building has been sacrificed in order to widen them. The best way to see Annapolis is on foot via a walking tour. Several guided tours are available, including some led by a Colonial-era costumed guide.

Annapolis has the highest concentration of Georgian-style buildings in the nation, including the homes of all four Maryland signers of the Declaration of Independence. A total of 1300 carefully preserved and restored buildings from fifteen architectural styles pre-date 1900.

Many African-Americans have played important roles in Annapolis and Maryland history. Their story is told in programs and exhibits at the Banneker-Douglass Museum of Afro-American Life and History.

In the City Council Chamber at City Hall, Annapolis' early history comes to life in three large murals. They show the settlement of Providence in 1649, the laying out of the capital in 1695, and the proclamation of the Annapolis City Charter in 1708.

Shopping is superb at Annapolis Harbour Center. The waterfront mall is laid out in the configuration of a maritime village with some 40 shops and boutiques. Across from Harbour Center is the unique Pennsylvania Dutch Farmers Market featuring everything from fresh farm produce to homemade Amish and Mennonite delicacies. There is also a section devoted to crafts, such as homemade quilts.

In a world filled with uncertainty and constant change, Annapolis stands as a beacon to visitors, as a symbol of stability and quiet strength, just as it has for over 300 years.
Search for your Hotel
Choose your lodging below
Select your Accommodations below.
Hotel Reservations by hotelroomdirectory.com © Copyright 2006
Best Value Hotel Rooms