Acapulco, Mexico is a city and major sea port in the state of Guerrero on the Pacific coast of Mexico, 300 km southwest from Mexico City. The town is built on a narrow strip of low land, scarcely half a mile wide, between the shore line and the lofty mountains that encircle the bay.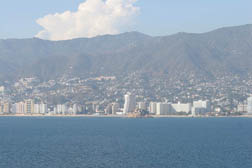 For thousands of annual visitors, Acapulco is the ideal holiday destination. This Pacific resort is a Mecca for those who love swimming, shopping, and an exciting nightlife. Acapulco Bay, one of the world's foremost natural harbors, is the city's centerpiece. The weather in Acapulco is without parallel, with warm waters, almost constant sunshine, and year-round temperatures in the 80s.

In recent years, Acapulco has undergone a remarkable renaissance. Classic hotels have been renovated and areas gentrified. Beautification efforts have transformed and renewed the entire area.

Acapulco is thriving in every regard. It often happens that development comes at a cost to the environment, so the city government has invested over $1 billion in public and private infrastructure improvements to counteract any damage that might have occurred during the growth spurt.   An ongoing program instituted in the early 1990s has cleaned up the water and is preventing pollution or any destruction to the fragile eco-balance.  With the return of clean beaches and pollution-free waters, the balance of nature has been restored and is being protected. Recently, whales have even been sighted offshore.

Visitors to this amazing resort town find a wide variety of beach and water activities. Snorkeling, scuba diving, parasailing, and fishing are all popular choices. The attractions on land are equally impressive, as each of the numerous resorts boasts world-class tennis and golf facilities.
Be sure to enjoy a performance by the world famous La Quebrada cliff divers.  \ The show is repeated throughout the day.  The last show at night is enhanced with the addition of torches, that are held by the divers.

At night Acapulco is transformed as the city springs to life. The nightlife is legendary, and with the constant opening of new and ever more spectacular dance clubs, Acapulco remains the disco capital of the world. The clubs are always crowded, so visitors usually go to several in one night. The restaurants are also well-known for their variety, and the menu choices range from simple lunch offerings to world-class cuisine.

The waters of Acapulco's famous Harbor are a crystal clear blue by day. At night, they reflect the lights of Acapulco's dazzling skyline. The beaches are some of the most famous in the world; the variety of land, sea, and indoor activities lend excitement to each day spent in this enchanting place. People come to Acapulco to kick back, relax, and enjoy one of the best vacations they will ever experience.
Search for your Hotel
Choose your lodging below
Select your Accommodations below.
Hotel Reservations by hotelroomdirectory.com © Copyright 2006
Best Value Hotel Rooms