The Auckland Metropolitan Area, or Greater Auckland, in the North Island of New Zealand, is the largest urban area in New Zealand.

Auckland has a warm-temperate climate, with warm, humid summers and cool but damp and lengthy winters. January temperatures average 21-24 °C. February can be warmer than January, and July maximum temperatures average 14-16 °C. High levels of rainfall occur almost year-round especially in winter.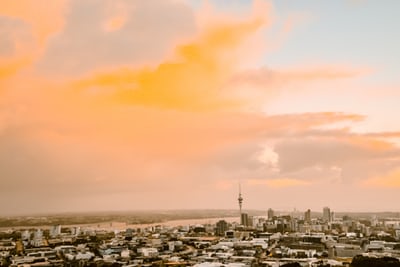 Auckland is the gateway to New Zealand and its largest city. Almost entirely surrounded by water, and covered with volcanic hills, the city has a spectacular harbor and a population of 1.3 million people.

This is a city of infinite possibilities. Wherever the visitor may be at any given moment, there is the assurance that within 30 minutes or less he or she could be cruising the harbor, playing a round of golf, swimming at a beautiful city beach, or even walking in subtropical forest .

New Zealand consists of two main islands, North and South, as well as some small offshore islands. Auckland is located on the North Island. It has a pleasant subtropical climate with mild winters (June, July and August) and warm, humid summers (December, January and February).

Greater Auckland is actually a fusion of four cities: Auckland, Manukau, North Shore, and Waitakere. Each is reached via a highway network, which crosses the harbor, rivers, creeks, and bays and is used daily by the thousands who commute into the inner city to work.

Auckland has two universities with the accompanying literary and cultural benefits. Many Auckland shops are open seven days, central bars and nightclubs welcome patrons well into the night, and a cosmopolitan mix of Polynesians, Asians, and Europeans all contribute to the cultural milieu.

There is fine music in Auckland: everything from symphony concerts and ballet to rock, jazz and blues. Kiwi bands such the one led by Bic Runga mix contemporary rock sounds with Polynesian influences.
Auckland is known as the City of Sails and has more boats per capita than any other city in the world. It also has 22 regional parks covering 91,521 acres.

This city is a top choice for anyone interested in wide open spaces and physical activities. Above the ground you can go bungee jumping, parachuting and skydiving. On the ground you can go hiking, mountain bike riding, skiing, horse riding, rock climbing, and 'zorbing'. Underground you can go surface caving, cave rafting, and hydro sliding; and on the water you can go jet-boarding, white-water sledging, rafting, boogey boarding, canoeing, kayaking, surfing, , and scuba diving. If there is a difficult and challenging way to get from one point to another you can do it in New Zealand.

Of all these activities, the most popular one is still tramping (hiking or trekking). Thousands of miles of marked tracks and an efficient network of trampers' huts are in place.

Auckland is an ideal vacation destination for families, and, in fact, for travelers of all ages. It is clean, safe, and exciting, all at the same time. Whether you are stopping for a week, or planning to spend a month of in depth exploration of this natural wonderland, Auckland will provide a most fulfilling experience.
Search for your Hotel
Choose your lodging below
Select your Accommodations below.
Hotel Reservations by hotelroomdirectory.com © Copyright 2006
Best Value Hotel Rooms