Madrid, Spain is the capital and largest city in Spain, as well as in the province and the autonomous community of the same name. It is located on the river Manzanares in the center of the country.

The region of Madrid has a Mediterranean climate that manifests itself with fresh winters that often experience temperatures lower than 8 °C. Summer tends to be warm with temperatures that easily reach 24 °C in July and that can often reach 35 °C.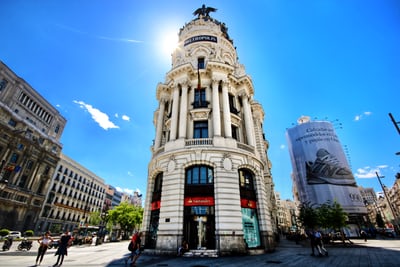 Madrid has stood in the center of the Iberian Peninsula as the capital of Spain since 1562. Its southern and elevated location allows for warm, dry summers and cool winters, making for excellent traveling weather all year round. As a tourist destination, Madrid is filled with fascinating areas to explore. There are the wide, gracefully tree lined major avenues and boulevards, the trendy and cosmopolitan buildings, and in contrast, the old areas that twist and wind with quaint streets and relaxed cafes. Together, these combine to provide many days of discovery of the treasured past and the exciting present of Madrid.

One cannot help but notice a prominent green blotch on the map of Madrid. Parque Del Retiro is more than a nature walk. In fact, many visitors return several times during their stay for the ever-changing offerings of street performers, boating, skating, and puppet shows.

The city offers many interesting museums, with the world-famous Prado National Museum leading the way. Housed in an 18th-century building, the Prado features the works of Rubens, Goya, El Greco, Bosch, Velazquez, Titian and many others. Madrid's most famous contemporary art museum is the Museo Nacional Centro de Arte Reina Sofia. Its centerpiece is Picasso's enormous antiwar masterpiece, Guernica. The fabulous works of the Thyssen-Bornemisza collection are displayed at the Villahermosa Palace.

The historic quarters of Madrid teem with interesting sights and structures. Columns, arches, churches, fountains, even an Egyptian Temple await the traveler. The Madrid Card is a wise purchase, as it combines a transportation pass with free entry to various museums and attractions, among other discounts.

Madrid has hills and mountains in abundance for the climber and hiker. There are twenty local golf courses, some of which welcome nonmembers. Parque de Nieve is the amateur athlete's dream. This is an indoor, artificial slope that can be configured with different terrains. There are separate areas for skiing, snowboarding and tubing, as well as an ice wall for climbers. Bicycling is also a popular sport, and bike trails are available. Spain's national sport is futbol (soccer), and Madrid boasts three home teams. The season runs from September to June. A close second in the hearts of Madrilenos and Spaniards is the corrida (bullfight), for which the season is from March to October.
Madrid has impressive venues and well-regarded companies providing ballet, contemporary dance, orchestral concerts, opera, and theatrical productions. Shopping in Madrid is a delight. The shopping area of Serrano, just east of Paseo de la Castellana, is full of boutiques, home-decorating stores and stylish shops, including Chanel and Armani. Calle Ribera de Curtidores located in the heart of the Rastro market, has the largest concentration of antique shops in Madrid. The streets around Puerta del Sol form a more traditional (less exclusive) shopping area, where you can still find shops that have been in business since the 1800s.

Long lunches will be a necessity, as the rich variety of sights and sounds of this fabulous city require time for assimilation and reflection. Fortunately, to relax is to be Spanish. People sleep late. Shops seem to open and close of their own accord. Hundreds of restaurants, cafes and bars line the streets, not for the purpose of continuous eating and drinking, but because sociability and enjoyment of life as a community are cultural necessities. Lunch is more than a meal; in the right company, it can become an all-day activity.

Madrid by day is a social city, but the fun doesn't end with the sunset. It is nearly impossible to describe Madrid's unending list of evening activities. Nightspots in Madrid generally stay open until 4AM, giving visitors plenty of time to explore the excellent restaurants, tapas bars, open-air cafes, jazz and night clubs.

Most travelers arrive in Madrid with plans to stay for a day or two before striking out for other parts of Spain. Many, however, stay longer once they realize the infinite possibilities Madrid offers for food, drink, and fun.
Search for your Hotel
Choose your lodging below
Select your Accommodations below.
Hotel Reservations by hotelroomdirectory.com © Copyright 2006
Best Value Hotel Rooms