Dubai, United Arab Emirates: the United Arab Emirates is a Middle Eastern country situated in the southeast of the Arabian Peninsula in Southwest Asia on the Persian Gulf, comprising seven emirates: Abu Dhabi, Ajmān, Dubai, Fujairah, Ras al-Khaimah, Sharjah, and Umm al-Qaiwain.

The UAE lies in Southwest Asia, bordering the Gulf of Oman and the Persian Gulf, between Oman and Saudi Arabia.
| | |
| --- | --- |
| Dubai, United Arab Emirates | |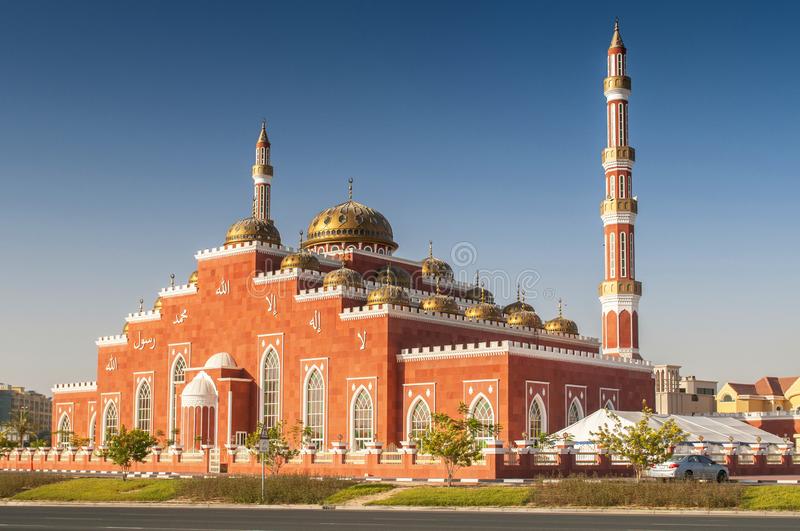 Dubai has something for everyone, from vacationers seeking a relaxing break away from the pressures of work, to active tourists looking for a new, exciting experience. The emirate is an international conference, exhibition, and leisure travel destination.

Lying on the calm, blue waters of the southern Gulf and flanked by majestic desert, Dubai offers year-round sunshine and five-star luxury along with the adventure of a unique Arabian experience.

Twenty nine years ago the southern coast of the lower Gulf was a barren, under-populated land comprised of several autonomous states. Today, as the United Arab Emirates, it has become a dynamic, modern society with the infrastructure of contemporary twenty-first century life.

The great wealth derived from the UAE's oil and gas production has given the country one of the highest per capita incomes in the world. This income has been invested over the past twenty years in construction and development which have proceeded at an amazing rate. All of the original settlements have become dynamic urban centers and Dubai has grown into a large, cosmopolitan city. Rural villages have been reconstructed; many nationals (natives of the UAE) have acquired homes which feature the modern conveniences of major urban lifestyles.

A network of multi-lane highways link the main city centers. The more remote regions are accessible by all-terrain vehicles and both the desert and the mountains are popular destinations for leisure and recreational activities.

Wherever you are in Dubai, you will not be far from a supermarket which offers most of what can be found in North America, Australia and Europe. In fact, you are likely to find more variety as goods are imported to suit the needs of many different nationalities. Prices are comparable to most western countries

Known in the region as 'the city of merchants', Dubai has welcomed seafarers and traders to its shores for generations. Today, this tradition of courtesy and hospitality lives on. Dubai's streets are clean and safe, and travelers are sure to be charmed by the city's warmth and friendliness.
Dubai has a seemingly endless variety of unique vacation opportunities! Some of the highlights are desert safaris, dune driving; exploring wadis (dry river beds) in four-wheel-drive vehicles; sand-skiing; moonlit Arabian desert barbecues, complete with traditional entertainment; camel racing, horse racing and falconry; cruises in wooden dhow on Dubai Creek or into the Gulf; exploration of the old city souks (markets) and creekside dhow quays. Photographic possibilities include traditional architecture; majestic mosques, magnificent palaces, brightly dressed children, camel and goat herds, ancient windtowers, dusty Bedouin villages, lush oases and palm groves, and dramatic sunsets.

Dubai has facilities for swimming, sailing, fishing, windsurfing, water-skiing, jet-skiing, scuba-diving and snorkeling. There is golf on five championship-standard grass courses,

Other sports include squash and tennis; horseback riding; trekking, paragliding, cycling, ice-skating, shooting, archery and bowling.

Families will enjoy the child- friendly parks and playgrounds. Driving in the desert, mountains or river beds (wadis) is a favorite weekend pastime for many people in the Emirates. There are numerous sites for camping and picnicking. Shopping for traditional Middle Eastern gifts is easy and enjoyable. Offerings include rugs, silverware, jewelry, brass, inlaid rosewood furniture and much more.

Dubai is a modern city without any of the negative aspects often associated with city life, such as air pollution, traffic jams, poverty or crime. It is truly a vacation paradise.
Search for your Hotel
Choose your lodging below
Select your Accommodations below.
Hotel Reservations by hotelroomdirectory.com © Copyright 2006
Best Value Hotel Rooms